Thailand
Price from
1.450 $ / Pers. (1.300 €)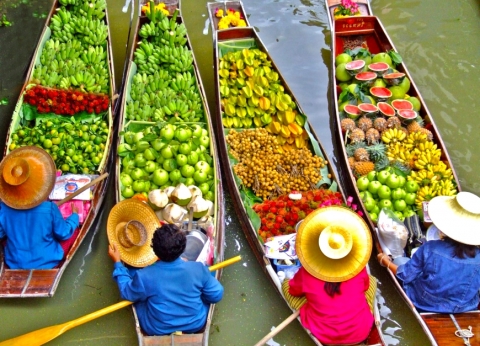 Itinerary in details
Day 1: Arrival in Bangkok - Kanchanaburi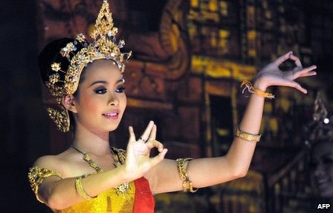 Welcome to Thailand !
The schedule of the 1st and last day are flexible depending on the best international flights we have found for your group.
Important note : Passports have to be valid for over 6 months prior to expiration when traveling to Thailand.
We have conceived with care, itineraries comfortably designed to welcome groups of intellectually challenged travelers.
We wish you a great trip to Thailand, rich in encounters and discoveries. 
Warm welcome by your guide and your driver and transfer to your hotel.
From the airport, transfer to the province of Kanchanaburi located 3 hours away. This is one of the wildest region of the country, counting 7 national parks. The main city of the region « Kanchanaburi » is well know for its brige : « the brige on the river Kawai » like the title of the famous movie and book.

Lunch on the way or on arrival in Kanchanaburi. 
Check in at your hotel and time to rest.
Dinner and night in Kanchanaburi.
Day 2: Kanchanaburi (Erawan National Park)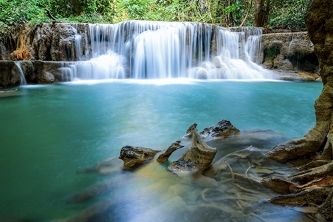 Breakfast at your hotel.
After a good night of rest and a healthy breakfast we head to Erawan National Park for an imersion in deep nature. This park is a true gem one can visit in Thailand.
Easy walk to reach the magnificent 7 terrace waterfalls inviting you for a refreshing bath in natural turquoise water.
The park hosts a very diversified population of over 400 species.  You will probably encounter with curious monkeys !  
Full day of visits in the park including a pic-nic lunch.
Back to you hotel in mid afternoon and time to rest until dinner.
Dinner and night in Kanchanaburi.
Day 3: Kanchanaburi (time with elephants)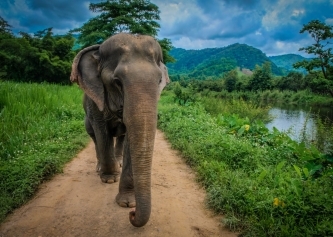 Breakfast at your hotel.
Today, let's encounter with a great new friend : an asian elephant. Elephants are the animals reprensenting the country of Thailand. Have a wonderful time getting to know this majestic and frienly animal.
We take this opportunity to learn more about how to take care of such a huge friend. You will participate in preparing lunch for elephants, and go along with elephants for a walk in the forest : it is always quite amusing to watch them having fun in the mud pond. Continue to bring elephants for their daily bath : a magic an unique moment !
Lunch is organized on spot.
Back to the hotel after lunch. Time to refresh and rest before dinner.
Dinner and night in Kanchanaburi.
Day 4: Kanchanaburi - Amphawa (firelies watching)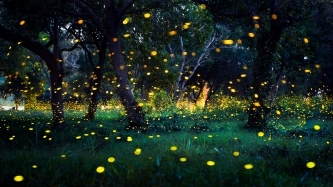 Breakfast at your hotel.
In the morning, drive to Amphawa, famous spot for its traditional floating markets.
Away from the beaten touristic tracks, local Thai people come from Bangkok to escape the hustle and bustle of the city. Experience the authentic way of life !

Lunch is oranized on the way.

Check in at your hotel.

Early afternoon at leisure to refresh in your room.
Just beofre sunset, departure for a fun moment : fireflies watching ! Embark a little long tail boat and within few minutes of cruising, when it is getting dark open your eyes to watch hundreds of fireflies illuminating the trees : a spectacular moment!
Dinner and night in  Amphawa.
Day 5: Amphawa (floating market)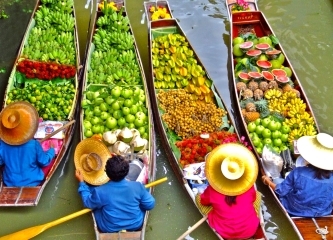 Breakfast at your hotel.
This morning, visit the park of King Rama 2. Have a walk in this park  located along the river and offering a beautiful garden.
Continue to the floating market of Amphawa ! The market takes place on week-ends only. It is amazing to watch all those small wooden boats selling goods coming from all over the country.
Lunch is organized on the banks of the river in one of all the traditional houses. You will get your delicious lunch directly from the « kitchen boats » passing by.
Shopping time along the canal to find souvenirs
Dinner and night in Amphawa.
Day 6: Amphawa (local market)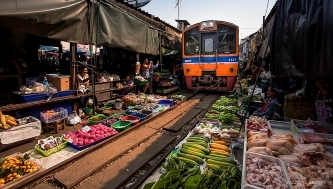 Breakfast at your hotel.
Today, departure to the floating market of Tha Kra which is even more local than the one visited yesterday. From the market, embark a traditional boat and cruise to reach a coconut sugar factory. Visit the small factory and taste thesweet  coconut sugar !
Lunch at the market.
The visit continues a few miles from there with another very peculiar marke : the market of Maeklong takes place direclty on the rails of the trains.
It is quite amazing and funny to watch all the vendors hurring up to pack their goods at the time when a train is passing (at a very slow speed) : this happens 8 times per day !
Back to the hotel in mid afternoon.
Dinner and night in Amphawa.
Day 7: Amphawa - Prachuap (beach stay)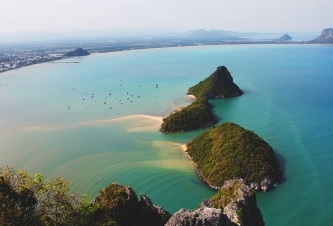 Breakfast at your hotel.
Today, departure for the region of Prachuap Khiri Khan : you are accomodated in the heart of the Khao Sam Roi Yot national park. 
Located along the Thai, you will find here a calm and peaceful beach with fine sand .
Away from the touristic crowd, this beach stay is authentic and quiet.
Lunch is served in a restaurant on the way.
Check-in at your hotel and time at leisure to enjoy the place.
Dinner and night in Prachuap.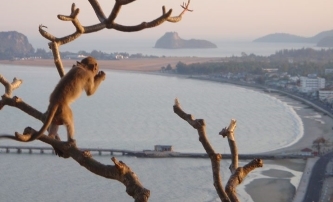 Breakfast at your hotel.
Day at leisure.
Possibility to bath in the sea, relax on the beach, play differrent games, go for a massage or visit a cave (entrance fees to be paid on spot).
Lunch and dinner at the hotel.
Night in Prachuap.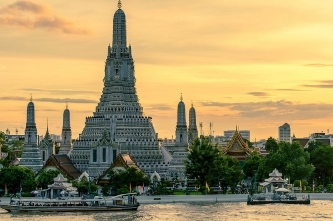 Breakfast at your hotel.
Drive to the capital : Bangkok.
Bangkok is one of the most visited capital in the world. The city is famous for all its Buddhist temples, its high buildings, huge shopping malls and narrow authentic streets.
Check-in at the hotel located in the heart of the city, along the Chao Praya river. The hotel features a nice garden and a great swimming pool.
In the evening, you will go to the market located nearby the hotel. The farewell dinner is organized at the market.
Night in Bangkok.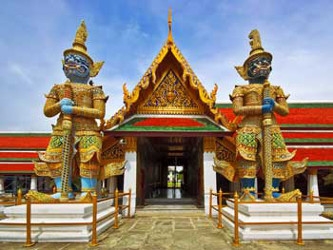 Breakfast at the hotel.
A few minutes walk from your hotel you will embark a local long tail boat to explore the capital city riding its best mean of transportation.
The boat will stop at different docks to enable you to visit :
             One of the most ancient temple of Thailand : the « Wat Pho ». This temple is particularly famous for its giant laying down Buddha entirely covered with gold !
The flower market of Pak Klong Talat : one of the most amazing flower market ever which is open 24/7. It is a very photogenic place and great to watch the sellers making perfect flower decorations and creations.
The very dynamic quarter of China Town where one will find plenty of street food stalls. Streets are filled with apetizing smells and smoke for all those kitchens.
The  great night market : this is where you will enjoy your last dinner in Thailand. It is always fun to dine in the hustle and bustle of a market, just like local people !  
Night in Bangkok.
Day 11: Bangkok - Departure
Breakfast at your hotel.
Check out is at noon. Possibility of late check-out depending on your international flight schedule.
Pick up to the airport is 4 hours prior to departure in order to reach the airport on time before take off. Traffic in Bangkok can be quite unpredictable.
Say good bye to the land of smiles and elephants.
The schedule of this last day is flexible depending on international flighs schedule.
Price from
1.450 $ / Pers. (1.300 €)
Price includes
Comfortable accormodation
Expert guide
Private air con mini bus with dirver
All meals
Entrance fees to all mentionned sites
Expertise of Roll in Asia