Central Vietnam
Price from
1.150 $ / Pers (1.060 €)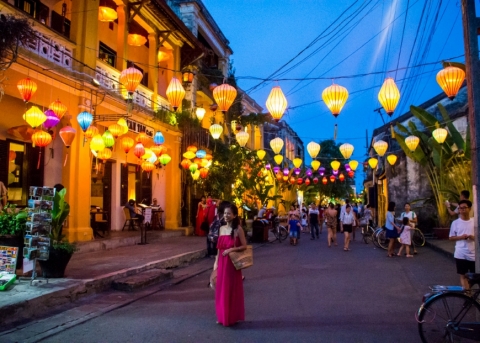 Itinerary in details
Day 1: Arrival in Danang - Hoi An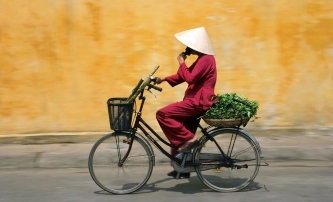 Welcome to Vietnam!
We have conceived with care, itineraries comfortably designed to welcome wheelchair users, answering the needs of less mobile travelers to enable an exciting and serene visit of Vietnam.
We wish you a great trip to Vietnam, rich in encounters and discoveries. 
Your guide and your driver will be there to welcome you.

Drive to your hotel and time to relax and refresh. Possibility to add an early check-in depending on your landing time.
Your hotel is a small structure ideally located at the foot of the pedestrian old town. You will stay in this same hotel for the entire trip. Your room is spacious and ensuite.
Activities and meals are flexible depending on your flight schedule.
Night in Hoi an.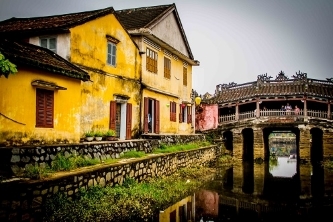 Breakfast at your hotel.
After breakfast, in mid-morning, departure with your guide to explore all the amazing treasures of Hoi An.
Hoi An is the dreamed place to wander, shop, stop at a terrace for a drink, and enjoy it by day or by night.
The entire historical center is pedestrian.
Visit with your guide the beautiful little paved streets, w ith houses painted in warm colors, hanging lanterns on their doorsteps. Cross the popular Japanese bridge from the 16th century, built to link the Chinese and Japanese communities.
Lunch in a restaurant of the old town.
Hoi An is world famous for its lanterns. Stop at a handicraf factory to try to make your own lantern with the help of a local worker and keep your creation to bring git back home as a souvenir.
Back to the hotel in the mid afternoon. Time at leisure to rest and relax.
Dinner.
Night in Hoi an.
Day 3: Hoi An - Activities in Tra Que village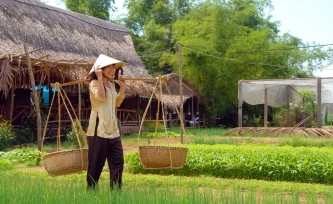 Breakfast at your hotel.
The countryside of Hoi An remains quite authentic. It is only at a 10mn ride from your hotel that you reach the rural village of Tra Que located along a little canal.

Your guide will introduce you to the history of the village but also to the agricultural activity of this zone where all the work is still done manually thanks to ancestral techniques. 

Take a stroll on the paths along the plantation fields and then continue to a local house where you will watch a cooking demonstration. Enjoy tasting the local food specialties such as the "Tam Huu" rolls or the "ban Xeo" pancakes.
Lunch after the cooking demonstration.
Foot or neck massage under the bamboo hut.
Back to the hotel in the mid afternoon. Time at leisure to rest and relax.
Dinner.
Night in Hoi an.
Day 4: Hoi An - Enjoy the beach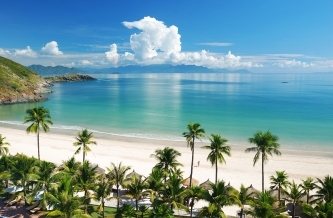 Breakfast at your hotel.
Today we will go to the very nice beach of An Bang.
This beach is located only 15mn drive away from your hotel.  An Bang is a 25km fine  withe sand beach stretch, the nicest beach of Vietnam.
The other great thing about this beach is the food!  You can eat very fresh fish dishes at a local restaurant, with your feet directly on the sand!
Enjoy a nice meal facing the China sea!
After lunch, time to relax and play at the beach.
Before returning to your hotel, stop on the way to a spa for a 1 hour massage treatment. The Vietnamese massage is gentle and you will feel wonderfully relaxed!
Time at lesiure before dinner.
Night in Hoi an.
Day 5: Danang city tour & 3D museum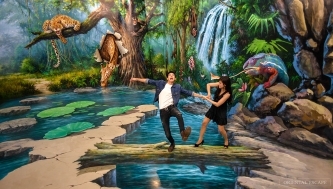 Breakfast at your hotel.
Today, departure with your guide to Danang city, the 4th largest city of Vietnam counting 1.4 million of souls. Danang is a nice and modern city.
The city has been built around the Han River, with several quite amazing bridges like the dragon bridge.
Drive to the peninsula of Danang to reach the giant lady Buddha statue. This super high statue was erected in 2010 and this is the highest statue of the whole country.  From there you will have an outstanding view on the Danang bay.
Lunch in a restaurant of Danang.
Continue your day to the fun 3D museum: Art in Paradise. Everything there is about illusion. The 130 pieces of 3D art are very amusing and offer many good laugth: pretend to fight a dragon, or to kiss a fish! Do not forget your camera !!!  
Back to your hotle at the end of the day.
Dinner .
Night in Hoi an.
Day 6: Hio An - Food tour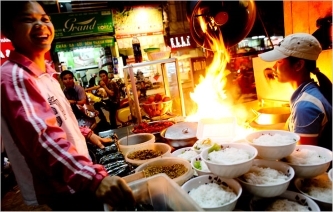 Breakfast at your hotel.
Morning at leisure.
Little snack at 11am.
In the early afternoon, departure with a street food specialist of Hoi An ! You will learn plenty about the wonderful little town of Hoi An, its history, its culture and of course its restaurants offering on their menus a large range of traditional culinary specialties with unique flavors !
At each stop (between 15 and 20 stops for the most curious and hungry of you), your special guide will share with you the daily food displayed on street stalls with their know-how learned generation after generations. Tasting small portions of all those mouth watering specialties makes the experience unforgetable.
The adventure ends in the early evening.
Head back to the river banks of the old town and embark on a little rowing boat for a magical little ride when you will drop a lightening flower in the river and make a wish !
Night in Hoi an.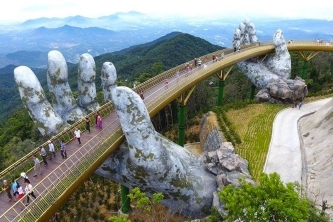 Breakfast at your hotel
After breakfast depart for a great day to ba Na Hills and Golden bridge. Upon arrival, ride the telecabin to reach the top of the high hills and reach the attraction park. Ba Na hills is a beautiful theme park that provide many sight-seeing places and amusement activities.
Lunch at leisure in the park. Fulkl day at the park with your guide to explore it all and have so much fun !
Back to Hoi An at the end of the day. Dinner.
Night in Hoi an.
Day 8: Hoi An - Handicraft villages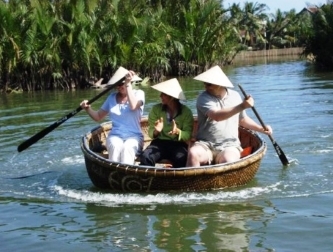 Breakfast at the hotel.
After breakfast departure to a nice and quiet village making ceramic objects. This little village is located on the banks of the Thu Bon River.
The village is specialised in making ceramic ofr over 500 years. The pieces which are made are most usually objects of daily use such as bowls, vases, flower pots etc…
Everything is made by hand dureing the whole process.
Lunch break nearby this village.
Continue the visits of today with a fun « basket boat » ride starting from the fishing village names « water coconut village ». Thise little round boats are very useful for fishing in Vietnam ! They were initially made to avoid paying taxes on boat…beecause they are not boats : they are baskets !
Back to your hotel at the end of the day.
Dinner in Hoi An.
Night in Hoi an.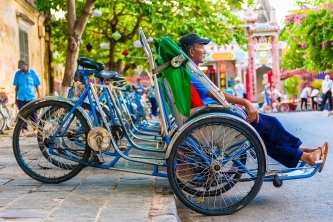 Breakfast at your hotel.
Morning at leisure followed by lunch.
In the afternoon, head back to the old town for your last souvenir hunt. Take your time to find the perfect souvenirs and gifts to bring back home and also to enjoy this wonderful little town.
Enjoy sunset at the terrace of a café beofre heading to dinner.
Night in Hoi an.
Day 10: Hoi An - Departure
Breakfast at the hotel.
Get at the airport 3 hours prior to your flight departure.
Activities and meals of today are flexible depending on the flight schedule.
Time to say goodbye to the land of the Dragon !
Price from
1.150 $ / Pers (1.060 €)
Price includes
Comfortable accormodation
Expert guide
Private air con mini bus with dirver
All meals
Entrance fees to all mentionned sites
Expertise of Roll in Asia