Sikh, Sari and Sâdhu
Price from
1 750 $ / Pers. (1 490 €)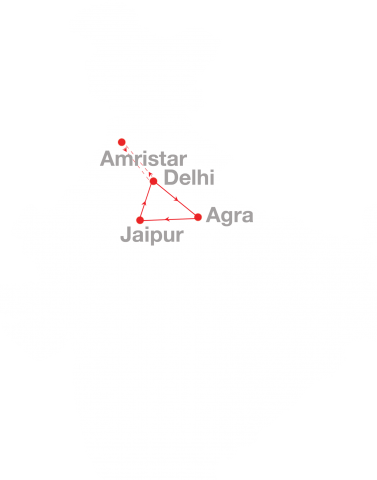 Itinerary in details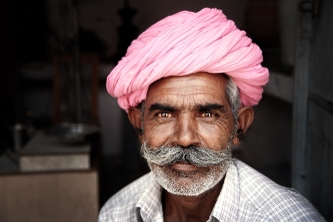 Welcome to India!  Upon arrival at the airport, your guide and driver will warmly welcome you and transfer you to your hotel.
Roll in Asia has designed with care and creativity this itinerary which is 100% accessible to wheelchair users and answering the requirements of less mobile travelers in order to let you enjoy the discovery of this beautiful region in great comfort and full serenity.
Your guide and local advisor will be at your disposal during your trip; do not hesitate to contact them should you need any assistance.
We wish you a wonderful journey, rich in discovery and encounters!   
 
Superior:
Holiday Inn New Delhi International Airport 4*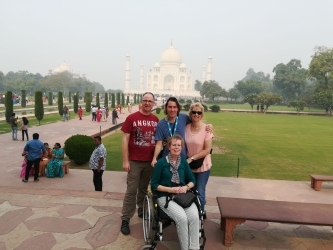 This morning, drive to Agra, home to India's most famous landmark: the incomparable Taj Mahal!
Lunch on arrival in Agra followed by the visit of the Taj Mahal (closed on Friday).
The Taj Mahal was constructed by Emperor Shah Jahan in memory of his wife Mumtaj Mahal who died during the birth of her child in 1631. The construction is said to have taken 22 years to complete, starting from 1631, with over 20,000 craftsmen working round the clock.
Take all your time to enjoy this outstanding monument.
Continue with the visit of the Red Fort of Agra; a great monument made of red stones.
 
Superior:
Courtyard by Mariott Agra 5*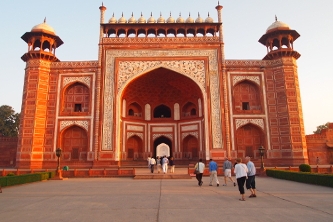 Departure this morning for the pink city: Jaipur!
En-route stop at Fatehpur Sikri, the deserted capital of Emperor Akbar. Built in the 16th century, this city was abandoned 12 years later due to a scarcity of water. The entire city of Red sand stone (sand stone palaces and temples) remains intact.
The site is fully accessible thanks to soft access ramps.
Continue to Jaipur.
 
Superior:
Four Points by Sheraton 5*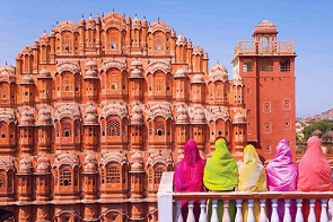 Morning excursion to Amber Fort. Amber was once the ancient capital of Jaipur state. The Fort is a superb example of Rajput architecture, stunningly situated on a hillside and overlooking a lake, which reflects its terraces and ramparts.
This afternoon you will visit the City Palace which is still the home of the former royalty Bhawani Singh Ji of Jaipur housing an extensive collection of art, carpets and old weapons.
Continue to visit Jantar Mantar: the Observatory. At first glance, Jantar Mantar appears to be a curious collection of sculptures but in fact each construction has a specific purpose such as measuring the positions of stars, altitudes and azimuths, and calculating eclipses. The most striking instrument is the sundial with its 27 meter high gnomon.  
Just before sunset, witness an unusual ceremony at the Govind Devji temple. The temple hosts a very popular sculpture of a divinity which is showed only at certain times of the day. When the curtain opens up to show the sculpture, a funny ritual is made by believers! Let's not say more to keep the surprise! 
 
Superior:
Four Points by Sheraton 5*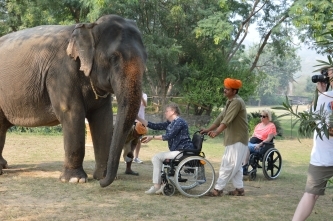 Morning at leisure to enjoy some rest.
An outstanding experience is waiting for you this afternoon for which a new friend will join you. Short introduction of your new friend: he is 8 feet tall, has a funny nose, he is kind, graceful and playful! Team up with an elephant! Spend time with him/her to learn about his needs and conditions of leaving and participate into plenty of fun activities!
On your return way, visit the Birla Mandir; a magnificent modern white marble temple dedicated to lord Vishnu and the goddess Lakshmi. 
 
Superior:
Four Points by Sheraton 5*
This morning, have a ride back to Dehli and lunch will be served upon arrival.
After lunch, visit the highlights of the capital.
Pass by the presidential palace, the India Gate as well as the house of the parliament.
Continue with the visit of the Raj Ghat which is a memorial of the most popular personality of India:  Mahatma Gandhi. The Raj Ghat is a black marble platform that marks the spot of Mahatma Gandhi's cremation, on 31 January 1948, a day after his assassination. It is left open to the sky while an eternal flame burns.
 
Superior:
Holiday Inn New Delhi International Airport 4*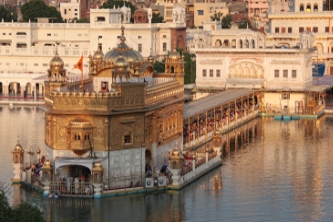 Transfer to Delhi airport and flight to Amritsar. Located at only 1 hour flight, Amritsar is the capital of Pendjab state, the holy city of the Sikh community.                                                                    
Upon arrival, transfer to your hotel.
Afternoon walk to Jallian Wala Bagh memorial established in 1951 to commemorate the massacre of the peaceful Sikh celebrators on the occasion of the Punjabi New Year on April 13th, 1919 by the occupying British forces.
Continue to the Golden Temple the holiest shrine of the Sikh religion. The temple itself is beautiful, inlaid with many jewels and covered with gold leaf.
Discover this outstanding monument and stop by the collective kitchen where volunteers are serving thousands of free meals every day.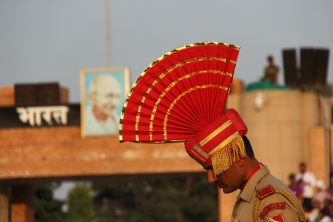 Morning at leisure.
Afternoon excursion to the Wagah border to witness a peculiar and unique ceremony. Almost like a soccer game, both Indians and Pakistani's turn out in force to cheer on the changing of their respective guards amidst much singing and all round fun. You will hear from both sides: « Pakistan Zindabad » - « Hindustan Zindabad » (« Hurray to Pakistan » – «Hurray to India») !
Back to the hotel for dinner. After dinner, go back to the Golden Temple for the Holy Book Ceremony. This ritual is performed every evening in a joyful and peaceful way. It is also a great moment to see the Golden Temple shinning in the dark.
The magic of the Golden Temple is in the air!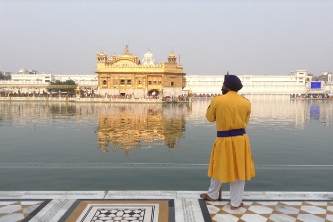 Morning at leisure to rest at your hotel or to continue exploring the city by yourself.
Transfer to the airport for your flight to Delhi.
Upon arrival in Delhi, a room will be at your disposal in a hotel nearby the airport in order for you to refresh before heading back to the international terminal for your flight back home.
 
Superior:
Holiday Inn New Delhi International Airport 4*
Price from
1 750 $ / Pers. (1 490 €)
Price includes
8 nights as mentioned in the program, superior accommodation (Other categories, contact us) + Day use in Delhi before your international flight.
Transfers by air-conditioned car.
Breakfasts and meals as mentioned in the program.
A local English-speaking guide during visits and transfers.
Admissions fees to sites.
Assistance of your advisor (before, during and after the trip).
Price doesn't include
Air Transport (contact us).
Meals not mentioned (contact us).
Tips.
Travel insurance.